Getting the most out of your site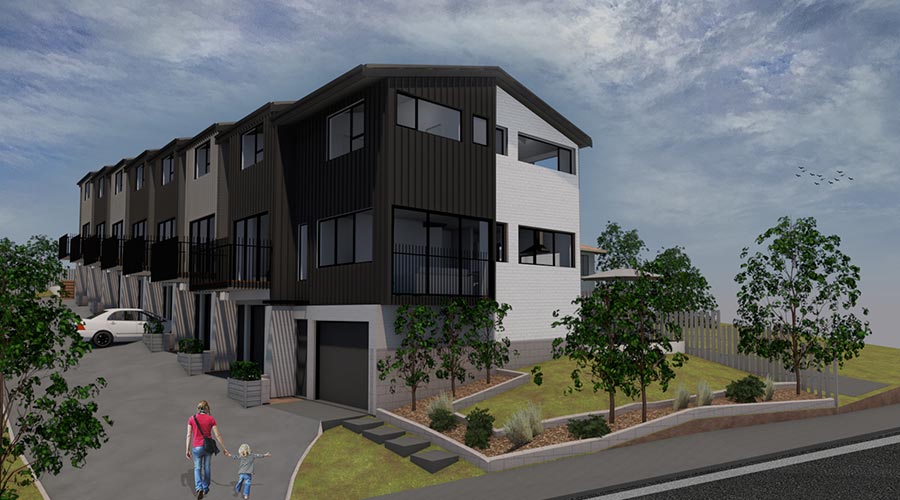 Director Natasha Cockerell talks about how developers can maximise their profits by getting the most out of their land area.
As the Auckland Property market remains hot, there is a unique opportunity for would-be developers to capitalise on the heated market conditions and at the same time provide relief towards the housing shortage.
Respond Architects currently have several housing developer clients who make a career out of purchasing suburban homes in strategic areas, then subdividing and constructing multiple new homes on the site for eventual sale and profit.
The role of the architect is critical, assisting the developer to determine optimum subdivision boundaries to maximise the number of quality homes able to be constructed on the site. This is referred to as yield optimisation.
This is a complex and often challenging design process, particularly in Auckland's Special Housing Areas (SHAs), where the District Plan allows provision of four homes per 1200m2 site. Developers need to provide homes which will meet the minimum requirements of potential buyers, which generally means 150-200m2 homes on Fee Simple Titles. These homes could be on sites of only 300m2, and still need to comply with Unitary Plan, height, yard and setback requirements.
Our architects begin the design process with a Site Constraints Assessment, which includes a visit to site to look at conditions on the site such as land contour, views, services and existing trees and buildings.
From there we develop a 3D site constraints model, which involves modelling the site boundaries, contours and features in 3D and adding planes which define the buildable area of the site.
After defining the buildable area of the site, we are able to then advise owners or potential owners of the location and maximum area of building(s) that can be constructed on the site.
This process is a valuable and relatively low cost tool that allows developers to make an informed decision as to whether to purchase a property. If the yield determined from the Site Constraints Assessment is acceptable to the client, the architects proceed with bulk and location design, which involves delineation of sub-division boundaries and setting house positions and general form.
During this stage we work closely with Cadastral Surveyors and Planners to define the boundary positions. Consideration of vehicle access and manoeuvring, existing building positions, services, neighbouring properties, sunlight and views are taken into account.
Once the boundaries and house positions are set, design of the actual buildings begin. When designing for resale, it is critical to consider the needs of the likely purchasers, including number and size of bedrooms and living spaces. The specification of the design (including material selection and architectural features) is also key to avoid over capitalisation. In other words, a house that might be perfect for Albany would not attract buyers in Glen Innes or Papakura.
All of our design is done in BIM (Building Information Modelling) 3D software, and presentations are made to the client at each stage to update them on design process and allow incisive decision making.
The role of the Architect also includes preparation of Resource Consent and Building Consent applications, and liaising with Council to ensure timely consent approvals to allow construction to proceed.
Time is of the essence for these projects because an empty site earns no money, so there is often a requirement to come up with a house design within a day or two.
Despite the need for speed, we pride ourselves on not comprising on quality of design, detailing or documentation. A prime example of the consequences of rushed work during a boom in the construction market is the leaky building crisis, where extremely poorly constructed buildings did not meet minimum Building Code requirements.
Respond Architects is passionate about providing excellent quality design and detailing, while meeting the timing and efficiency requirements of clients.