Respond VR Headsets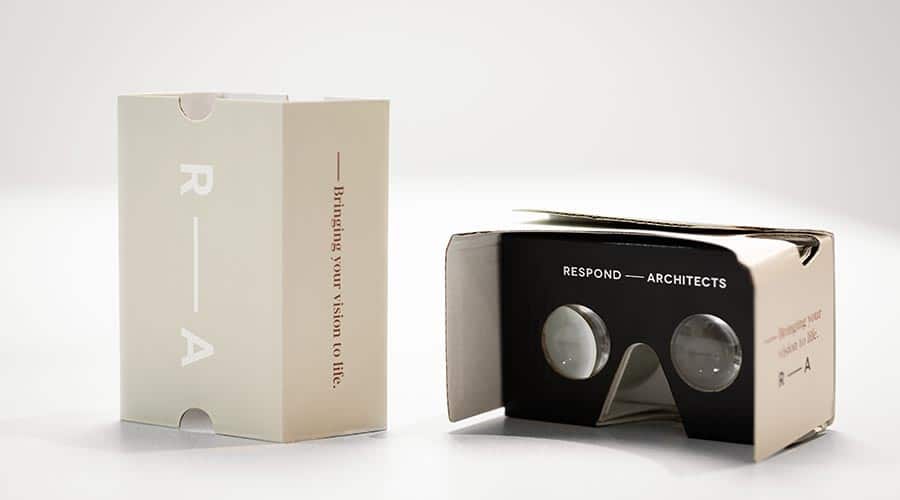 Want to see your new build or renovation project in 3D? Respond Architect's new Virtual Reality Headsets allow you to walk through your design, at every step of the process.
Traditional architectural drawings essentially try to communicate 3D spaces and building elements using a 2D medium. The problem is that not everyone is a visual person and many find it difficult to understand how the drawings translate into 3D. Respond Architect's Joe Lyth explains.
"A lot of our clients find 2D drawings hard to translate into reality. You can show them on screen and try to step them through the plans, but with a flat image they simply can't imagine how the end result might look or feel. We often have similar issues on site, where drawings to communicate complex 3D junctions and details can be misunderstood."
That's why Respond sourced and created their own simple, effective VR headsets. Made entirely from a branded cardboard template, they allow people to turn their 2D drawings into 3D virtual reality using just a smart phone.
"By linking the headset to the architectural model and drawings using the BIMx viewer app, you can allow the client to virtually walk through and around their new home or office. Using the headset you feel like you're actually within the building, so you get a real understanding of the space and how it works. We always tell our clients that while the devil is in the detail, architecture is really about the finished space and how it feels; the views you can see and how you might live or work within it."
Using the headsets is simple, but just in case, Respond has put together a simple step by step tutorial on YouTube.
"Basically, you just unfold the cardboard flaps of the unit, sit them in place using the velcro tabs, then position your phone and secure it using a rubber band. Remove the lens cover and you're good to go. There's a button on the headset which connects with the phone screen, allowing you to control your movement.
"The headsets have been so valuable. We use them for everything – from residential jobs where people want to understand the flow of their new home, to commercial jobs where they want to walk around and see the desk layout. We even use them to communicate details to contractors on site, as it's far easier for a builder to understand how the design will fit together if they can explore it in 3D before it's even built!
"It's all about helping our clients, contractors and consultants understand the new spaces – taking them on the design journey with us to ensure an end product that everyone is happy with."